Noticias Uno: lecciones de periodismo forense
"Los periodistas somos prostitutas intelectuales"
John Swinton, New York 1890. (1)
1.
Para Noticias Uno, según su sección Top Secret del Domingo 21 de septiembre del 2008, no basta con que Lucas Ospina haya entrado a entenderse directamente con la ley, allá donde la especulación, el arte y la prensa no tienen voz. No. Se necesita profundizar en la incriminación, así sea tramposa. Dice la locutora con su patético uso del español, el "español de noticiero" que invade nuestros días y noches:
"Lucas Ospina, el profesor de la Universidad de lo Andes quien se atribuye el comunicado que reivindicaba el robo del grabado de Goya diciendo que era una parodia, asegura que el panfleto solo estaba en el Blog Esfera Pública. La afirmación del profesor es tan falsa como el comunicado. Por ejemplo Noticias Uno lo conoció porque fue enviado al correo de John Castles, directivo de la Fundación Alzate Avendaño con quien (sic) Lucas Ospina y otros miembros de la comunidad artística sostienen una agria y vieja polémica. Y de parodia pocón, pocón"
Claro, es una nota de unos pocos segundos, la "prueba" ya ha sido infiltrada en nuestro cerebro alienado por la televisión, el uso populachero del idioma y el bodrio de la nueva "Telepolémica" que sigue al noticiero. Sin embargo es una tentación. Da la sensación de que el Noticiero de los Puros está dando papaya, están siendo ligeros. Y de desparche examinamos la "prueba" que dicen tener:
El encabezado del mail que aparece en la imagen convenientemente borrosa, dice lo siguiente:
De: John Castles Gil [mailto johncastles@hotmail.com
Enviado el 13 de septiembre de 2008 11:37AM
Para: ybaquero@hotmail.com; yesidbaquero@noticiasuno.com
Asunto: FW [esferapublica Goya, tu grabado vuelve a la lucha
To: esferapublica@yahoogroups.com
From: esferapublica@hotmail.com
Date: Fri, 12 sept 2008 22:37:36 0500
Subject [esferapublica Goya, tu grabado vuelve a la lucha
Encabezado que prueba, si y solo si, lo siguiente:
1. Que John Castles recibió el correo de esferapublica@yahoogroups el 12 de septiembre de 2008 a las 22:37 PM (2)
2. Que John Castles reenvió el correo recibido de Esfera Publica al editor general de Noticias Uno, Yezid Baquero, el 13 de septiembre de 2008 a las 11:37 AM
Punto. Nada más.
2.
La "Prueba" de falsedad de Noticias Uno:
El noticiero, como puede verse en el fotograma, subraya el renglón donde dice
De: John Castles Gil [mailto johncastles@hotmail.com
como PRUEBA de que John Castles recibió el mail directamente de Lucas Ospina. La trampa del noticiero ha sido introducida cual "mico" mediático y toma ventaja de que la imágen pasa rápidamente para fabricar una prueba falsa. Convierte al emisor, al DE: del mensaje, en éste caso John Castles, en receptor.¡¡Voilá!! Magia mediática.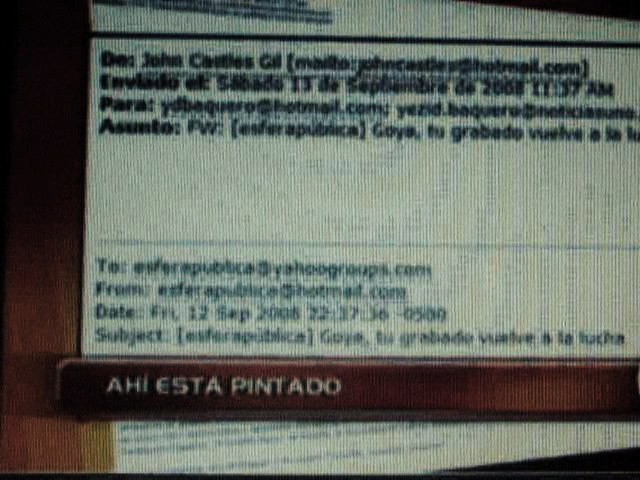 Y la prueba de que Lucas Ospina envió el mail directamente a John Castles…. no aparece,… es FALSA y es un acto astuto y tramposo.
El noticiero que con más ahinco en la televisión colombiana se ha hecho adalid de la independencia, la insobornabolidad, el antiuribismo y los derechos humanos, acaba de poner en práctica lo que, eventualmente, ha aprendido de su adversario. No solo a convertir parodias en noticias sino que, como el sistema que denuncia y critica, se ha vuelto un maestro en tratar insidiosamente de acusar a los enemigos de sus amigos, en éste caso la Fundación Alzate Avendaño, de terroristas mediante pruebas falsas como ésta.
Las falsas pruebas llevan en si los indicios de verdad en el camino hacia el desenlace en el género negro. Eso lo sabe cualquier detective aficionado. Ahora sabemos, gracias al rastro forense dejado por la falsa prueba del noticiero, que es posible que la "falsa noticia" del comunicado bloguero se enquistó en Noticias Uno a partir del mail de John Castles a Yezid Baquero. El rompecabezas vindicativo de la Alzate en contra de Ospina iría tomando forma 8 dias después. El ensañamiento periodistico, la "investigación paralela", tiene toda la forma de un mandado. Fabrican una "prueba" a ver si por ahi le enredan un poquito mas la vida al creador del panfleto y rezan porque la policía esté viendo el noticiero para darle cuerda. Suena conocido el método. Para-normal. De un estilo nada Noticias Uno.
3.
Ver cómo Noticias Uno construyó su propia novela barata y delirante con siquiatra forense y desenlace victoriano incluído nos permite ver cómo, hasta el que se pretende el más puro, puede ser en el fondo el más ordinario de los mortales.
http://www.noticiasuno.com/buscador.html?buscar=goya
Pero ver a Noticias Uno, a los Puros, imitando las estrategias de contubernio e involucración de cualquier Mancuso…¡¡¡No tiene precio!!!!
Carlos Salazar
———————————-
(1) John Swinton, the foremost journalist of his day, was asked to toast an independent press at a New York banquet given in his honour by other journalists. His response was clear and forthright:
"There is no such thing, at this stage of the world's history in America, as an independent press. You know it and I know it. There is not one of you who dare write your honest opinions, and if you did, you know beforehand that it would never appear in print. I am paid weekly for keeping my honest opinions out of the paper I am connected with. Other of you are paid similar salaries for similar things, and any of you who would be foolish as to write honest opinions would be out on the streets looking for another job. If I allowed my honest opinions to appear in one issue of my papers, before twenty-four hours my occupation would be gone.
"The business of the journalist is to destroy the truth, to lie outright, to pervert, to vilify, to fawn at the feet of mammon, and to sell his country and his race for his daily bread. You know it and I know it, and what folly is this toasting an independent press? We are the jumping jacks, they pull the strings and we dance. Our talents, our possibilities and our lives are all the property of other men."
http://www.thetruthseeker.co.uk/article.asp?id=90
(2) Según datos del moderador, John Castles está suscrito, como 2017 personas más, a la lista de Esfera Publica desde el 1 de mayo de 2003, lo cual quiere decir que ha estado recibiendo los correos de Esfera Publica desde hace más de 5 años, ésto técnicamente y según la metodología probatoria de Noticias Uno podría transformarnos a todos en víctimas de Lucas Ospina si el editor del noticiero se mete a nuestros correos, los copia y los subraya con rojo. Y a los que escribimos allí, seriamente o no, en terroristas, tal y como quieren los blogofóbicos que casi siempre son los medios corporativos y los periodistas baratos.