Bienal de Berlín: El arte como arma social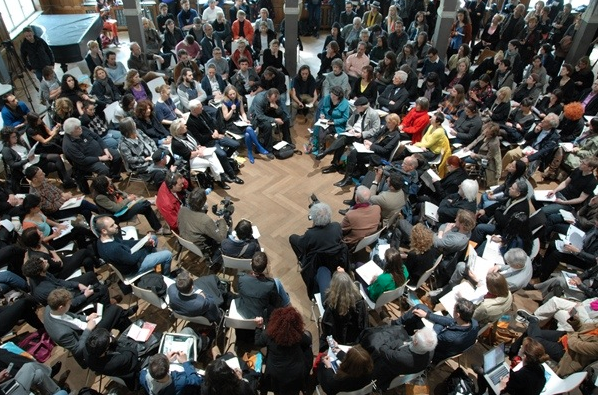 "Nos han interesado proyectos con resultados concretos. En lugar de quedarnos en la formulación de preguntas, hemos ido a la búsqueda de respuestas (…). No nos interesa ni defender la inmunidad artística ni distanciarnos de la sociedad." (Artur Żmijewski, prólogo a "Forget Fear", Berlin Biennale, 2012).
La primera, en la frente. Con este manifiesto ha llegado el comisario electo de esta séptima edición a las puertas de una ciudad donde el arte es plusvalía y los becarios, gratis. Sus palabras son el credo y la columna vertebral de un proyecto tan dependiente de los fondos públicos como parte integrante del perfil más glamouroso del Berlín que se puede enseñar. Y es que "Biennale" trae siempre resonancias de lugares mejores, de lujos exóticos y de grandezas de pedigrí que dan a "Berlin"  ese aire de decadencia sexy tan bien llevada que la ha hecho famosa. El efecto óptico, sin embargo, no dura mucho.
Conscientes de que Berlín nunca será Venecia y que en lugar de la grandeza de palacios con vistas al Gran Canal tenemos caseríos abandonados bastante grandes a la orilla del Spree, los amantes del arte en Berlín nos ponemos la mar de contentos cuando llega la Biennale con ese aire de "wannabe" que tanto nos pega. Y de un poquito de brillo desde la orilla vulgar del mundo, por salir de lo corriente. Este año, además, con Gallery Weekend incluído. Pero esta edición la Biennale llega con ganas de guerra y así se ha presentado en una rueda de prensa que buscaba el diálogo y ha demostrado la dependencia de este colectivo profesional del sistema económico en que actúa y su incapacidad para implicarse en un cambio verdadero.
He aquí las claves para entender la 7ª Biennale:
Artur Żmijewski, el comisario y su mensaje
Arte aplicable a la realidad, con resultados reales: En la tesis de  Żmijewski asoma tanto la soziale Plastik de Beuys como el pavor ante el arte ensimismado, expresión que pedimos prestada a Rubert de Ventós para definir el arte distanciado, centrado en su propia dinámica, en absoluto interesado en mejorar ni salvar ninguna sociedad. Żmijewski está convencido del poder político del arte contemporáneo, y para mostrarlo ha invitado a una serie de colectivos y se ha rodeado de un equipo de colaboradores más cercanos al activismo que a la producción de objetos. Su manifiesto "Arte social aplicado", una inequívoca declaración de intenciones donde desarrolla su concepto del arte crítico, ha sido el punto de partida para la presente Biennale.
Una pregunta destaca por encima de otras: ¿qué puede hacer el artista por cambiar el estado de las cosas?
Para el comisario es de vital importancia que el artista tome conciencia de la responsabilidad de su actividad para conseguir cambios políticos. El trabajo curatorial ha consistido, como explicaron en la rueda de prensa Warsza y  Żmijewski, en un trabajo de búsqueda de agentes culturales y colectivos en todo el mundo, en una especie de cartografía de los "momentos rompedores en el espectro político" (Warsza) que ha resultado en Occupy Biennale, una convocatoria de movimientos democráticos a nivel internacional y en una serie de colaboraciones o "Solidarity actions" con instituciones tales como el Centre for Contemporary Art Ujazdowski Castle de Varsovia, el Hartware Medienkunstverein de Dortmund o el Istituto Svizzero di Roma.
El artista implicado en la tarea social se opone así frontalmente al mercado del arte, otro brazo del liberalismo feroz, que alcanza también al mundo del arte y a sus agentes productores (léase artistas, comisarios, directores de museos, casas de subastas, etc) para producir valor, a su vez canjeable en beneficio económico. La lógica del capitalismo impediría, así el artista polaco, el desarrollo de un arte crítico, pues la propia supervivencia física del artista está en juego. En Berlín, donde, afirma Żmijewski en una conversación con Joana Warzsa,  "la cantidad de artistas es proporcional al número de galerías de arte", se juega a alimentar esperanzas mientras las instituciones trabajan mano a mano con el mercado del arte.
En este orden de cosas, ¿cómo escapar de la seducción de este monopoly del arte, de la fantasía de los precios desorbitados, y desarrollar un arte verdadero, que use su capacidad de creación de situaciones excepcionales para trasladarlas al mundo real, o con sus propias palabras, para "universalizar la excepción"?
Joanna Warsza, la mano derecha, y Voina, los secuaces
Codo con codo con  Żmijewski trabaja Joanna Warsza, activista cultural con un extenso currículo de proyectos, en general con tendencia a las artes performativas y al uso del espacio público, entre los que se cuenta la  fundación de la plataforma independiente Laura Palmer Foundation, a través de la cual investiga en nuevas formas de comisariado en la frontera entre arte y activismo.
Junto a ella, el colectivo ruso Voina ("guerra"), formado por los artistas y activistas Oleg Vorotnikov (a.k.a. Vor), Natalya Sokol (a.k.a. Kozljonok o Koza), Leonid Nikolajew (a.k.a. Leo the Fucknut) und Kasper Nienagliadny Sokol (el hijo pequeño de Natalya Sokol) completa el comité curatorial. Fundado en 2005, su misión es oponerse a las autoridades rusas a través de acciones callejeras radicales de toda clase. La más llamativa, quizá, fue la pintada, ilegal se entiende, de un pene gigante en el puente levadizo de Litienjnyj en San Petersburgo. Enfrentados a juicios y multas,  a menudo confiscada su documentación personal, el colectivo actúa necesariamente en la ilegalidad en aras del despertar social.
Con Joanna Warsza y Voina como comisarios asociados, queda compuesta, junto a Żmijewski, una cúpula curatorial que ha seleccionado más de 50 proyectos internacionales para ser desarrollados durante la Biennale -algunos, de hecho, ya están en marcha. A continuación, unos cuantos:
"Deutschland schafft es ab" – Acción de recogida de libros, proyecto de Martin Zet
La primera polémica la trajo consigo el proyecto del artista checo Martin Zet. Una oleada de airadas discusiones e indignadas cartas a las instituciones destapó los complejos aún subyacentes en el inconsciente alemán. El proyecto consistía en recopilar tantos ejemplares posibles del bestseller del año, el libro "Deutschland schafft sich ab" (algo así como "Alemania acaba consigo misma") del ex-miembro de la junta directiva del Banco de la República Alemana y político del SPD Thilo Sarrazin, que desenmascaraba el fracaso del modelo alemán de integración y despertó el racismo latente, para reciclarlo en instalación artística.
Pero el complejo de culpa y el recuerdo de la quema de libros durante el nazismo pesó demasiado y muchas instituciones, entre ellas la Künstlerhaus Bethanien, dejaron de participar como lugares de recogida de libros. Otros, como  el Kunstraum Kreuzberg, insistieron en la importancia de participar en tal proyecto, en una declaración pública de intenciones disponible en la web. Prevista su instalación en KW, la acción contaba con recopilar sesenta mil ejemplares, que no supone ni un 5 por ciento del total vendido (1,3 millones). Según un artículo en la revista Monopol, no se ha llegado ni a 10 ejemplares.
Más información aquí:
www.berlinbiennale.de/blog/projekte
"State of Palestine" de Khaled Jarrar
El proyecto del artista palestino, que se inició el verano pasado con la estampación de pasaportes en Checkpoint Charlie con un sello que representaba la inexistente nación palestina, parte de la premisa de que los documentos estatales otorgan pertenencia nacional. Así, usando el servicio de la Deutsche Post "Marke individuell" ha diseñado una colección de sellos nacionales palestinos que reivindican la libertad al desarrollo de la propia identidad. La estampación del sello palestino en los pasaportes de turistas se ha seguido realizando desde 2011 en Ramallah, Berlin y París entre otras ciudades.
www.berlinbiennale.de/blog/projekte/state-of-palestine-von-kahled-jarrar
"And Europe will be stunned. Primer Congreso Internacional del Movimiento de Ranacimiento Judío en Polonia (JRMIP)", de Yael Bartana y el JRMIP
La artista israelí Yael Bartana, miembro, como  Żmijewski, del colectivo polaco Krytyka Polityczna ("crítica política"), que en la Biennale presenta el Club homónimo, inicia este proyecto en 2007 para promover el regreso de 3.300.000 judíos a Polonia con objeto de reconstruir la comunidad judía desaparecida. En la base se encuentra la intención de devolver a la utopía un lugar en la conciencia de la ciudadanía europea en un tiempo sin sueños.
El movimiento está compuesto por trabajadores, artistas e intelectuales que consideran que tanto Europa, como Israel o Polonia han de ser repensadas, una reflexión es necesaria para que las cosas cambien. Inicialmente en la forma de una trilogía cinematográfica (Mary Koszmary, 2007;  Mur i wieża, 2009 y Zamach, 2011), con este primer congreso desde su fundación se lleva el proyecto a la práctica y permite el intercambio y la discusión entre los miembros del movimiento, obedeciendo al principio de  Żmijewski del arte aplicado a la realidad.
HAU 1
11-13 de mayo, de 15 a 22:30 h (en inglés)
Stresemannstraße 29
Occupy Berlin Biennale
El movimiento 15M/Occupy/Indignadxs también ha sido invitado a participar en Berlin Biennale, que se  ha instalado en la planta semisubterránea de Kunstwerke. Desde la cúpula curatorial insisten en dejar claro que su presencia no es la de un objeto expuesto, sino que con este acto, se trata de integrar los movimientos políticos surgidos desde el último año en un evento que más que un festival se erige en experimento social. En este espacio los diferentes colectivos planean establecer un diálogo con el público asistente, un diálogo cuyo punto de partida lo supuso la rueda de prensa, transformada por este colectivo en una asamblea en torno al papel de la prensa en el curso de los cambios políticos y sociales.
Más información aquí:
www.berlinbienal.tomalaplaza.net
www.facebook.com/OccupyBerlinBiennale
Con performances, teatro, debates, discusiones, acciones y diferentes exposiciones, el festival, que este año es de admisión gratuita, crecerá día a día hasta su conclusión el 1 de julio a lo largo y ancho de las diferentes insituciones adheridas. El cuartel general seguirá siendo Kunst-Werke, en la Auguststraße, donde encontramos las posiciones de Teresa Margolles, con "PM 2010″, una recopilación de las brutales portadas de la revista sensacionalista PM de Ciudad Juárez durante un año, Marina Naprushkina, editora del diario alternativo Self# Governing, Mirowlaw Patecki con "Christ the Kind" o Khaled Jarrar con "State of Palestine".
La gran llave que sorprende al visitante con sólo acceder al patio delantero de KW forma parte del proyecto "Key of return", realizado en colaboración con el campo de refugiados Aida en Cisjordania. Obligados a abandonar sus casas, la llave, realizada por los mismos refugiados, domina la entrada al campo y simboliza la llave real de las casas que los refugiados se vieron obligados a abandonar con lo puesto y que aún conservan, para cuando les permitan regresar.
Entre los otros espacios se encuentra la St. Elisabeth-Kirche, donde se lleva a cabo el congreso de dibujantes de Pawel Althamer, la Akademie der Künste con la artista Joanna Rajkowska o la Deutschlandhaus con una muestra organizada en colaboración con la Stiftung Flucht, Vertreibung, Versöhnung. Durante la Biennale se edita un periódico que va a ir muy bien a más de uno, con abundante información sobre los artistas, qué, cuándo, cómo y por qué.
Iniciada por el fundador de Kunst-Werke Berlin (Klaus Biesenbach) y por Eberhard Mayntz como un foro de arte contemporáneo que permita posiciones alternativas, cada edición de la bienal de Berlín se encarga a un comisario diferente, entre los qu ya han pasado Hans Ulrich Obrist (1998) o Maurizio Cattelan (2006).
Más información aquí:
www.berlinbiennale.de