Dona una curaduría
Imagen tomada de http://www.vainachina.com/v2/2010/12/colombia-con-el-agua-hasta-el-cuello-s/
Colombia sufrió una (otra) crisis invernal el año anterior. Como a todos los Ministerios, al de Cultura le tocó proponer algo. Y aunque el Asesor del Área de Artes Visuales no lo sepa (bueno sería que se enterara), desde esa cartera se lanzó la propuesta de invitar "escritores, narradores, académicos, artistas, gestores y organizaciones culturales del país" a donar "tiempo para desarrollar actividades con los niños, jóvenes y adultos que se encuentran en los albergues, previa coordinación con el Ministerio de Cultura o la institucionalidad responsable de cultura de su Departamento". La razón de ser de esta convocatoria –además de la tragedia-, se explicaba más o menos en los siguientes términos:
"El Ministerio de Cultura en el marco de las acciones del Gobierno Nacional en su tarea humanitaria en favor de los damnificados del invierno, ha desarrollado el proyecto denominado 'Cultura en los albergues: mi tiempo es tu tiempo' se trata de una estrategia de atención inmediata para el uso del tiempo libre en actividades que, a partir de la lectura, contribuyan a aliviar las tensiones surgidas en la convivencia cotidiana de quienes se han visto obligados a abandonar su lugar de residencia."
Toda tragedia tiene su historia, a esta le sobrarán narradores tranquilos. Y, para rematar, esta iniciativa permite que los artistas participantes puedan "canalizar" (en serio, canalizar) su desconsuelo. Según se lee en la página Cultura en los albergues:
"En el contexto de nuestro proyecto estas actividades son de gran relevancia, ya que se convierten en la posibilidad de expresar los sentimientos que produce el estado de emergencia, pero también en la posibilidad de narrarse, pensarse, reconstruirse y proyectarse en nuevos escenarios."
Ahora bien, de lo anterior se derivan varios supuestos. Para el caso de las y los artistas:
1.- Que están ahí para acompañar en la tragedia (voz que calma).
2.- Que, quizá por su cercanía con los entresijos del alma, son los seres más idóneos para diseñar estrategias de manejo del tiempo libre (animadores culturales)
3.- Que su intervención alivia el sufrimiento (mediadores de paz)
4.- Que la lectura es buena (la ilustración salva)
5.- Que SÓLO la lectura es buena (la singularización de la práctica artística)
Para el caso de los damnificados:
1.- Una pérdida genera zozobra (la desposesión marca)
2.- Luego de perderlo todo se obtiene tiempo libre (disponibilidad de uso)
3.- Una de las mejores estrategias de intervención durante una tragedia es leer (así no se entienda muy bien de qué se trata el asunto)
4.- Los artistas son los mejores amigos del hombre –en ruinas- (la función social del arte)
5.- Los "académicos, artistas, gestores y organizaciones culturales del país", saben leer (quien trabaja con arte es inteligente)
**
Para quienes están pendientes de la movida del arte en la ciudad de Medellín y ya no se sorprenden con los devaneos políticos del actual gestor del Museo de Arte Moderno de allá, resulta interesante el eco que se crea entre la iniciativa anterior y la retórica tras el lanzamiento del Encuentro Internacional MDE:
"El tema de este encuentro… será la pedagogía y la transmisión del conocimiento en y desde el arte. Más que obras terminadas, el eje será el trabajo colaborativo entre los participantes, incluidos los ciudadanos."
Parece que a todo el mundo le preocupa el realce social de profesiones como Maestro en Bellas Artes, Maestro en artes Visuales, Maestro en Artes con énfasis en pintura, escultura o nuevos medios, etc. Eso esta muy bien, aunque lo aburrido de ahí es que tan buenas intenciones no están dirigidas a la manera como los artistas desean relacionarse con el tejido social. Ante esta posición institucional vale la pena preguntarse por el rol que cumple el gremio artístico dentro de esta estructura, y así saber mejor de dónde salió la idea de que "la pedagogía y la transmisión del conocimiento en y desde el arte" figuran entre sus principales preocupaciones. De hecho, había que definir cómo fue posible detectar esa inclinación en los artistas en la época actual y si lo que se revela en ese afán no es una pretensión curatorial que busca internacionalizar de cualquier forma al campo artístico local dándole un aire de creatividad políticamente correcta. Finalmente, habría que preguntarse si en Colombia existen proposiciones pedagógicas desde el campo de las artes que hayan resultado tan significativas como para decir en 2011 que su reflexión pública y su exhibición merecen ser el núcleo de un evento completo en una capital de departamento. Es más, de ser así habría que estudiar los medios para postularlas al Premio Compartir al Maestro.
***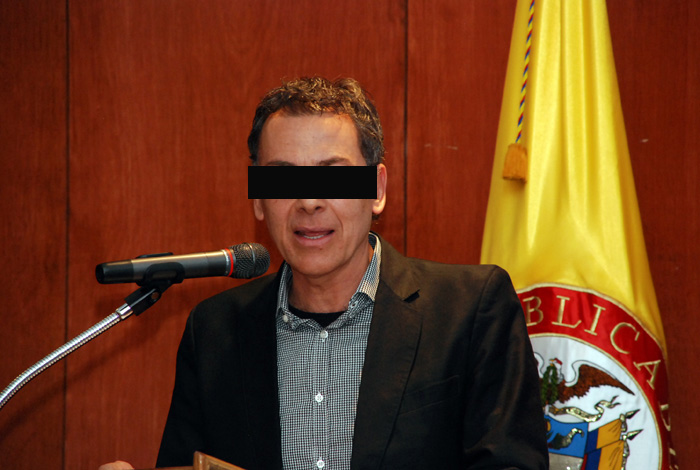 Imagen tomada de Agencia de Noticias UN
Y lo anterior molesta bastante a los artistas. Su enojo es mayúsculo; tanto que pareciera no existir unidad de medida para connotarlo. Por ejemplo, en una charla amable que se hizo la semana anterior en Cartagena, hablando alrededor de un costoso saloncito de arte en el que nadie cree, un artista que ha trabajado con teatro se preguntaba –luego de decir que otro artista que a veces dibuja y a veces escribe también se había preguntado lo mismo-, por qué se había implantado la tendencia de exigirle a los artistas el cumplimiento de un rol de Trabajadores Sociales hacia el que podrían no estar interesados. Dicho cuestionamiento tenía que ver con la irritante orientación temática de las curadurías que configuran los Salones Regionales de Artistas alrededor de una urgencia moral de índole socio-económico.
Y hasta ahí, no pasa nada. El problema con este cuestionamiento y con quien lo emitió tiene que ver con el hecho de que en algún momento de su carrera, uno de los más significativos hay que decirlo, ése artista hizo un proyecto en la Olla más popular del centro de Bogotá hacia 2001, bajo la forma de un "laboratory of the social imaginary".
Es más, desde 1993 este artista ha venido trabajando con barrios y comunidades. Que bueno, el problema es que para 2011 se dio cuenta de que eso era un problema y de que en realidad, hacía bastante tiempo lo habían venido instrumentalizando. Siempre mejor tarde que nunca. Ojalá esta situación no se repita más.
****
Si esa situación no se repitiera, muchos curadores nos veríamos en problemas. No podríamos respondernos la pregunta sobre la manera de resolver una curaduría que trate con temas sociales sin asumir la culpa de instrumentalizar la creatividad. Por supuesto que en ese caso el problema sería del curador (y si es curadora, peor –su entrega a las lógicas de dominación falogocentrista del régimen simbólico del capitalismo tardío, etc.-). Sin embargo, hay que preguntarse también si los productores no están dispuestos a trabajar con un tema de moda para acceder a espacios de exhibición. Incluso, valga sólo como ejemplo, si el programa Cultura en los albergues que se mencionó anteriormente hubiese incluido proyectos curatoriales (sin prever la ironía de montar una exposición en un sitio que podría albergar varias familias), cabría preguntarse si no habría artistas dispuestos a hacer algo para estar allí. ¿Qué tonalidad adquirirían esas imágenes, azul, marrón, gris? ¿Habría alguna obra que no tratara el tema de la conservación ambiental? ¿Cuántas entrevistas se presentarían? La instrumentalización es un acto de doble vía, alguien intenta utilizar y otro deja hacer. No sólo se trata de víctimas, también hay sujetos dispuestos a pagar el precio, con tal de hacer parte de algo. En este sentido, el asunto sería de configurar espacios gregarios, y la curaduría no ofrece una alternativa. Por eso no se donan.
:
Guillermo Vanegas

pdf
Le puede interesar >
2 opiniones
"Dona Una Curaduría"