Artistas Protestan Por Fiesta De La Tate A La B P
En la noche del 28 de junio a las 7:15 pm aproximadamente, el grupo Liberate Tate protestó por el patrocinio de BP a las artes y llevó a cabo un "solemne derrame de petróleo", en la entrada de la Tate Gallery minutos antes de iniciar la Fiesta de Verano, donde se celebraría el apoyo a la BP.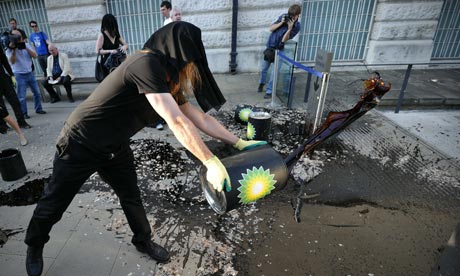 Artistas, curadores y críticos envían carta de protesta por fiesta de la Tate a la BP
Un numeroso y destacado grupo de artistas, escritores, críticos y comisarios de exposiciones denuncian la fiesta que con la que este lunes 28 de junio  la galería Tate Britain celebra los veinte años de patrocinio de la petrolera British Petroleum, BP.
En una carta que publica el diario The Guardian (anexa al final), los representantes del mundo de la cultura critican el hecho de que los ejecutivos de BP acudan al cóctel que ofrece esa galería mientras el derrame de petróleo sigue causando estragos en el Golfo de México.
"Estas relaciones ayudan a las grandes petroleras a enmascarar la naturaleza destructiva del medio ambiente de sus actividades con la legitimación social asociada a tan destacadas instituciones culturales", escriben.
Los 161 signatarios, que dicen ser representativos del mundo artístico, afirman que el logotipo de BP representa un baldón en la reputación internacional de la Tate.
"Muchos artistas están furiosos por el hecho de que la Tate y otras instituciones culturales nacionales sigan soslayando el asunto del patrocinio de una petrolera", agrega el escrito.
"Hace poco menos de una década se consideraba a las empresas tabaqueras socios respetables para tales patrocinios, algo que ya no sucede. Confiamos en que pronto ocurra lo mismo con las petroleras y las empresas gasistas", denuncian los firmantes.
Entre los 61 signatarios figuran los artistas Hans Haacke, John Keane y Adam Chodzko, los dramaturgos Davey Anderson y Caryl Churchill, el compositor Matthew Herbvert, el filántropo Gordon Roddick, y las críticas Suzi Gablik, Rebecca Solnit y Lucy R Lippard.
:
Fuente: EFE >
http://publimetro.com.mx/entretener/artistas-y-criticos-denuncian-la-fiesta-de-la-tate-por-el-patrocinio-de-bp/ejfB!1311665/
: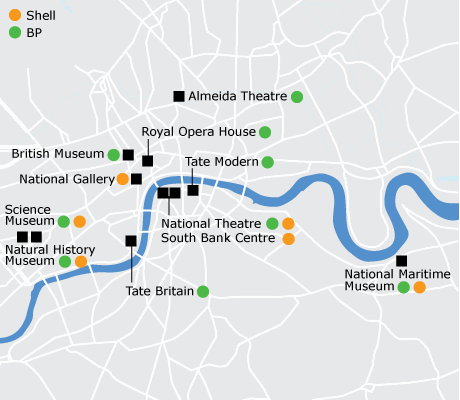 Artists and musicians plan to protest against BP's sponsorship of Britain's most prestigious galleries, theatres and museums. Graphic: guardian.co.uk
Curators, crude oil and an outdated cultural mix
Tonight, the Tate Britain is holding a summer party in which it is also celebrating 20 years of BP sponsorship (Galleries and museums face summer of protest over BP arts sponsorship, 25 June). As crude oil continues to devastate coastlines and communities in the Gulf of Mexico, BP executives will be enjoying a cocktail reception with curators and artists at Tate Britain. These relationships enable big oil companies to mask the environmentally destructive nature of their activities with the social legitimacy that is associated with such high-profile cultural associations.
We represent a cross-section of people from the arts community that believe that the BP logo represents a stain on Tate's international reputation. Many artists are angry that Tate and other national cultural institutions continue to sidestep the issue of oil sponsorship. Little more than a decade ago, tobacco companies were seen as respectable partners for public institutions to gain support from – that is no longer the case. It is our hope that oil and gas will soon be seen in the same light. The public is rapidly coming to recognise that the sponsorship programmes of BP and Shell are means by which attention can be distracted from their impacts on human rights, the environment and the global climate.
Hans Haacke, artist
John Keane, artist
Caryl Churchill, playwright
Matthew Herbert, electronic artist and composer
Suzi Gablik, art critic and writer
Gordon Roddick, art philanthopist
Rebecca Solnit, writer and art critic
Lucy R. Lippard, writer and curator
Davey Anderson, playwright
Adam Chodzko, artist
siguen firmas aquí