Despistando al enemigo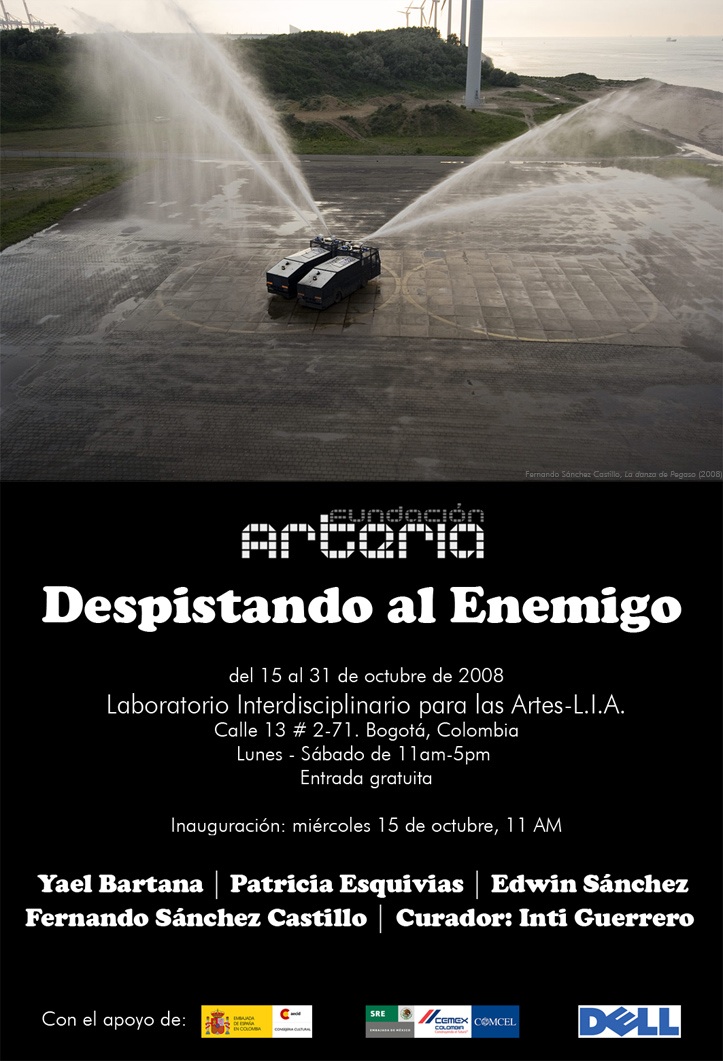 En primera instancia las obras de esta exposición ubican al espectador en una situación de dominio y control; en dialécticas de juegos que producen perdedores y vencedores. Sin embargo, en cada obra existe un gesto contestario que perturba el ejercicio opresivo del poder, creando voces empoderadas en el contexto de un conflicto geopolítico (Yael Bartana), en el desmantelamiento de las fuerzas militares (Fernando Sánchez Castillo), en la construcción personal de la Historia (Patricia Esquivias), en la violencia urbana y en el conflicto armado del país (Edwin Sánchez).
La video-instalación Semillas salvajes, (2005) de Yael Bartana, registra un juego entre jóvenes quienes representan a "la autoridad" y a "los pobladores de una aldea". El juego consiste en que la autoridad busca de cualquier manera separar a los pobladores, quienes se encuentran entrelazados en un territorio baldío. En una proyección se revela el forcejeo entre ambas partes, mientras que en otra son presentados los subtítulos de los gritos y murmullos de la acción, los cuales contextualizan políticamente el juego, al narrar una ocupación militar israelita en territorio palestino. Los jugadores son activistas opositores al expansionismo del Estado de Israel en el medio oriente. Al tomar el papel de los actores principales de este conflicto geopolítico, estos jóvenes logran por un instante, reaccionar ante esta situación de opresión.
En la producción cinematográfica de Fernando Sánchez Castillo, La danza de Pegaso (2008), el artista juega y controla a dos tanquetas de contención, las cuales son adoctrinadas para realizar una coreografía al ritmo de la música clásica que acompaña la pieza. La danza entre estas dos máquinas policiales, que usualmente son utilizadas para oprimir cuerpos y voces políticas de protestantes (quienes están ausentes en este video), representan en esta obra un extraño cortejo animal, en el que se las despoja de su capacidad de controlar. El agua que normalmente disparan estos vehículos, como  arma de intimidación, es usada en esta secuencia como una manifestación erótica. 
El video-tríptico Clases de cuchillo (2007) de Edwin Sánchez, documenta un encuentro acordado entre el artista y un habitante de la calle, quien le enseña desde las diferentes clases de cuchillos rudimentarios hasta movimientos para apuñalar al enemigo; proponiendo una perversa pedagogía del crimen. Por otro lado, en Calco (2008), el uso de una maqueta construida precariamente con piezas de lego y cartón para la planeación de una toma a un pueblo por parte de la guerrilla, como si se tratara de un juego de batalla, o de una pintura monárquica de campaña, posibilita la pluralidad en la opinión pública respecto al complejo conflicto armado de Colombia. En esta obra, el juicio moral del espectador se debate entre si la imagen atestigua un 'atentado terrorista' o un 'acto de guerra'.
En el caso de Patricia Esquivias, su trabajo está ligado a la herencia cultural, a la narración oficialista de la historia y a la cultura popular. La sencilla composición de sus videos está determinada por una cámara fija que apunta hacia el computador portátil de la artista, el cual es utilizado como soporte físico de imágenes análogas que cobran sentido gracias al relato producido por la voz de Esquivias. En Folklore 2 (2008), esta yuxtaposición de imágenes crea una analogía anacrónica del imperio del rey Felipe II durante el siglo XVI con el imperialismo cultural pasivo de la música de Julio Iglesias durante el siglo XX. A pesar de la distancia temporal entre estos poderosos y famosos hombres de España, esta obra consigue establecer múltiples paralelismos que ligan el gusto de la contemporaneidad con la agenda colonial. En otras palabras, en un momento histórico en donde la fe enciclopédica ha regresado al imaginario colectivo debido a la aparición de Wikipedia en  Internet, la obra de Patricia Esquivias logra rescatar con ironía la pluralidad en la narración de la Historia.
Sobre los artistas:
Yael Bartana (1973, Afula. Vive y trabaja en Nueva York y Tel Aviv)
Estudió en la Academia de Artes y Diseño de Jerusalén y en la Rijksakademie van Beeldende Kunsten de Ámsterdam. Ha realizado exposiciones individuales en el MoMa-P.S.1. (New York, 2008), Kunstverein (Hamburgo) y el Van Abbemuseum (Eindhoven). Ha sido parte de exposiciones colectivas en la Tate Modern (Londres), De Appel (Amsterdam) y el MIT List Visual Arts Center (Cambridge). Igualmente su obra formó parte de las bienales de São Paulo, Estambul, Liverpool y la Manifesta 4 (Frankfurt).
Patricia Esquivias (1979. Caracas. Vive y trabaja en Guadalajara)
Estudió Bellas Artes en el Central Saint Martins Colllege y es magíster del California College of Arts. Su obra ha sido exhibida en la Bienal de Berlín, el Museo Nacional Reina Sofía (Madrid), el Stedelijk Museum (Amsterdam), el Royal College of Art (Londres) y el Centro Cultural Itau (São Paulo).
Edwin Sánchez (1976, Bogotá. Vive y trabaja en Bogotá)
Estudió Bellas Artes en la Universidad Jorge Tadeo Lozano de Bogotá. Su obra ha sido seleccionada para el Pilot 3: International archive for artists and curators (Londres) y ha sido exhibida en el Encuentro Medellín, Galería Santa Fe (Bogotá), El Bodegón (Bogotá) y el Festival de Performance de Cali.
Fernando Sánchez Castillo (1971, Madrid. Vive y trabaja en Madrid)
Estudió Bellas Artes en la Universidad Complutense de Madrid y es magíster en Filosofía y Estética de la Universidad Autónoma de Madrid. Igualmente realizó estudios en la Escuela de Bellas Artes de París y en la Rijksakademie van Beeldende Kunsten en Ámsterdam. Su obra ha sido exhibida en el Centro Georges Pompidou (Paris), Tate Modern (Londres), P.S.1 (New York), MUSAC, y ha sido invitado a las bienales de São Paulo y Estambul. En Colombia su obra fue invitada al Encuentro Medellín y a la exposición Cart[ajena].
Sobre el curador:
Inti Guerrero (1983, Bogotá. Vive y trabaja en Bogotá y Rio de Janeiro)
Estudió Historia y Teoría del Arte y la Arquitectura en la Universidad de Los Andes y en la Universidade de São Paulo. Realizó el Programa Curatorial del De Appel Arts Centre en Amsterdam y es actual curador-en-residencia del espacio independiente Capacete (Rio de Janeiro).
853 consultas