La Crítica Como Ritual: Las Grietas De Unilever (4)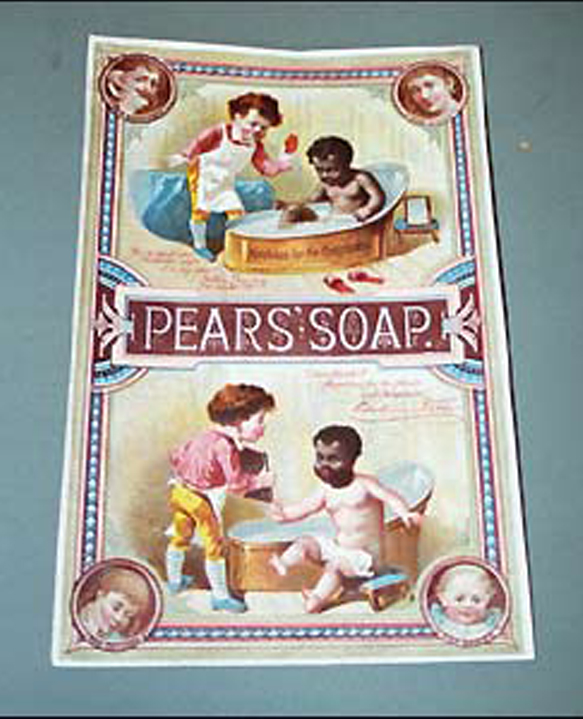 "Both the cult of domesticity and the new imperialism found in soap an exemplary mediating form. The emergent middle-class values – monogamy (´clean´ sex, wich has value ), industrial capital ( ´clean money´, wich has value  ), Christianity ( ´being washed in the blood of the lamb´ ), class control ( ´cleansing the great unwashed´ ) and the imperial civilizing misión ( ´washing and clothing the savage´ ) – could all be marvelously embodied in a single household  commodity. Soap…"
Anne McClintock. SOFT-SOAPING EMPIRE. Commodity racism and imperial advertising. THE VISUAL CULTURE READER. 2002. Chap 44. p 506.
Resulta paradójico que cuando Doris Salcedo afirma con su, tan exitoso e imitado estilo acusatorio de urgencia apocalíptica y su deliciosa astucia teñida de raptos visionarios, en ese lenguaje ermitaño que hace que nos veamos casi obligados a reconocer, cómplices pecadores de la indiferencia original, que su trabajo es una especie de flor imprescindible de la rebelión que
"La historia del racismo transcurre paralela a la historia de la modernidad, y es su innombrable parte oscura"
y que
"El racismo no es, digamos, un síntoma de un malestar que sufre la sociedad del primer mundo, sino que es la enfermedad misma". (1)
la corporación que financia su grieta en contra del racismo ha sido permanentemente acusada de imponer la cultura racista de "Piel blanca es mejor" en países en los que la población es de raza amarilla como en Filipinas o Japón u oscura como en India.
La obsesión de Unilever por la limpieza es única. Es solo comparable  a la conocida obsesión del paciente obsesivo compulsivo por ésta. No solo gran parte de sus productos son productos de limpieza  Ala, Axe, Brut,  Cif, Clear, Cram Silk, Dove, Finesse, Good Morning Soap, Impulse, Lux, Minerva, Pepsodent, Persil, Ponds, Q Tips, Rexona, Rinso, Sedal, Suave, Sun y Sunlight entre otros sino que existe una obsesión por limpiar sus abusos y su interminablemente cuestionada imagen corporativa a través del arte. Pero no cualquier arte: el "arte comprometido"; o como lo llama Mouffe "arte en contra del statu quo" y Rancière, en su estilo entre neo-hippie y Goebbels, arte "políticamente sensible". Las corporaciones en general están obsesionadas, desde el momento mismo en que fueron creadas, por la limpieza de su imagen y de hecho es Carnegie quien descubre en el siglo XIX que la mejor manera de limpieza de la imagen corporativa es la política de responsabilidad social; pero resulta poco menos un caso único una corporación que quiera limpiar su imagen y a la vez gran parte de sus productos sean productos de limpieza.
Las prácticas publicitarias de Unilever – que tienen sus raíces en la publicidad racista del jabón "Pears Soap" de 1903 que promociona el blanqueamiento de un niño negro (2) – han sido cuestionadas por racistas en India a raíz de las campañas publicitarias de Ponds White Beauty, Double White y Fair and Lovely. Entre varios comerciales hay uno en se muestra a una mujer triste de piel oscura convirtiéndose en una radiante mujer de piel blanca que no teniendo ya las limitaciones de imagen que representa su piel oscura debido al uso del pruducto, no tendrá problemas en la consecución de  pareja. Pero el producto tiene otras ventajas: ayudará a la mujer a conseguir trabajo en campos dominados por hombres, incluso  como locutora de partidos de cricket. (3)
Tal parece que, después de todo, Unilever posee la respuesta del racismo posmoderno al racismo moderno con el que Salcedo pone combustible moral a su hermosa y políticamente inocua obra decorativa. No se trata ya de pasar por el "trabajo social" al que nos impele la artista de cerrar la brecha, la grieta que separa a la raza blanca de las razas oscuras. Se trata más bien de que las razas oscuras se vuelvan blancas a través del jabón y los productos cosméticos. A través de Unilever el planeta entero será, en un futuro no muy lejano…blanco.
El racismo es ciertamente, junto a la esclavitud infantil, una infamia…Y quién lo creyera. No es el artista el que tiene la solución. Es el jabón. El círculo queda al fin cerrado: mientras la corporación limpia la cara del tercer mundo moreno con sus productos, la artista limpia la cara de la corporación del jabón con su espectáculo vehemente e inofensivo en contra del racismo y le agrega a su mecenas una ficticia reputación política y de liberalidad que le permite seguir actuando con impunidad moral durante un tiempo más.
El artista comprometido es ahora un nuevo producto de limpieza en la ya larga lista de la corporación.
————————
Videografía
Dos amigas en Nepal se encuentran casualmente en el templo con un hombre "nepalí blanco" guapo y exitoso. Él solo se fija en la de piel más blanca. Preocupada, la de piel amarilla recurre a las propiedades blanqueadoras de Fair&Lovely y logra llamar finalmente su atención.
http://www.youtube.com/watch?v=Yxt7XndHfqE
"Me encanta explorar nuevos lugares soleados pero mi confianza se ve disminuida por mi piel oscura" se queja una mujer de resgos orientales en algún lugar de Europa. Es un comercial de Vaseline Healthy White hecho para las Filipinas.
http://www.youtube.com/watch?v=Rswz0sghYCw
Una mujer hindú tiene serios problemas para conseguir trabajo y atraer a los hombres exitosos hasta que logra blanquear su piel con crema Fair&Lovely
http://www.youtube.com/watch?v=dCsnS4aJ-cY&feature=related
Sobre el impacto de la campaña "Blanco es mejor" en Holanda ( Blank is Beter, ben je blank dan krijg betere banen)
http://www.youtube.com/watch?v=8fyo3ElLxHo
————————–
(1)  http://www.tate.org.uk/about/pressoffice/pressreleases/2007/11986.htm
(2) Black faces often appeared only to emphasise their difference from white people.  the product is powerful enough to "clean" a black child. "The suggestion was that being black was unclean," says Sam Walker of the Black Cultural Archives. "It reinforced the idea that being black was negative, not least to children who may have seen this.".
Black Representation in Advertising.
http://news.bbc.co.uk/1/shared/spl/hi/pop_ups/02/uk_black_representation_in_advertising/html/3.stm
(3) Telling India's Modern Women They Have Power, Even Over Their Skin Tone. The New York Times. May 30, 2007.http://www.nytimes.com/2007/05/30/business/media/30adco.html?_r=1&ref=business&oref=slogin
Artículos relacionados
Indian Women Criticize 'Fair and Lovely' Ideal Run  04/28/03
http://www.womensenews.org/article.cfm/dyn/aid/1308/context/archive
http://www.davidairey.com/the-hypocrisy-of-unilever-advertising/
Bibliografía
Anne McClintock. SOFT-SOAPING EMPIRE. Commodity racism and imperial advertising. THE VISUAL CULTURE READER. 2002. El epígrafe de éste libro es por cierto un slogan de Unilever que reza: "Soap is civilization". El libro se encuentra en Google Books.
Carlos Salazar