Despiden director de Bienal por incluir obra "ofensiva"
El Jeque del Emirato de Sharjah ordenó el despido de Jack Persekian como Director Artístico de la Bienal, debido a una protesta pública sobre el contenido percibido como ofensivo de una obra expuesta. Lea el statement de los curadores Haig Aivazian & Rasha Salti y conozca la convocatoria de firmas para condenar el despido y la censura.
:
Entre la memoria y la verdad (
Plot for a Biennial)
.
Palacio del Comité Central. Bucarest. 1989. Nicolae Ceauscescu asiste perplejo al rugir de la multitud que abarrota la plaza y comienza a divisar su fin. Tras huir en su helicóptero, un líder del partido claudica finalmente ante la presión y cede el poder. Abajo, la multitud clama: "¡la verdad!, ¡queremos la verdad!". Son los primeros compases de Videograms of a Revolution, de Harun Farocki y Andrei Ujica, pieza ya clásica y pivotal en esta décima edición de la Bienal de Sharjah pues se alza sobre dos de los pilares más sólidos del proyecto: la revisión de diferentes tramos de la historia reciente y la exploración de los vidriosos vericuetos en los que supuestamente habita lo real.
Bajo el título Plot for a Biennial y con un equipo curatorial formado por Suzanne Cotter, Rasha Shalti y Haig Aivazian, la bienal quiere ahondar en una serie de conceptos -"corrupción", "colaboración", "traición", "afiliación"…- que funcionan como los protagonistas de una película, de ahí la idea de "trama" que se desprende del título. Confieso que no tardé en enredarme en ellos, pero pronto comprendí que casi todos podían concentrarse en torno a la idea de "traducción" y que giraban siempre alrededor de las sinergias poéticas y políticas que determinan la realidad territorial e histórica de la región. Los temas aquí tratados no difieren en exceso de los que vertebran casi todas las bienales pues son los que derivan de nuestro embrollado status quo, pero el contexto geográfico y el momento concreto en que nos hallamos no pueden ser obviados. Por eso el gran acierto de esta bienal es el enorme número de trabajos que han sido producidos ex profeso, muchos de ellos de altísimo nivel, que se detienen ante la idiosincrasia del lugar y que han sido realizados en muy diversos formatos y lenguajes incluyendo cine, literatura o música.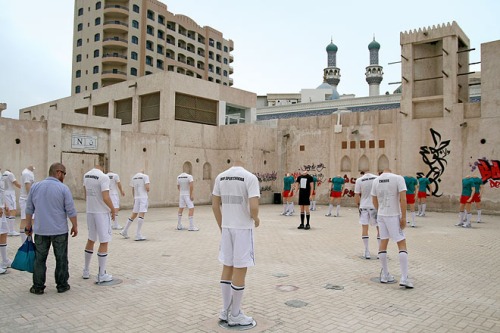 "No tiene importancia", obra de Mustapha Benfodil censurada en la Bienal
Lamentablemente, un par de semanas después de la inauguración, la autoridad del Emirato, encabezada por el jeque Sultan Bin Mohammad Al Qasimi, destituía al director de la bienal, Jack Persekian, en el cargo desde 2005, por la inclusión de un trabajo del argelino Mustapha Benfodil. En él, el artista se adueñaba de la voz de las víctimas de violaciones por parte de radicales argelinos que se apoyaban en textos religiosos para justificar sus actos. El jeque no supo aislar el asunto en el contexto argelino y se dio por aludido, pensando que se trataba de una denuncia contra el Islam en un sentido más amplio. Un miembro del gobierno y fundador de la Bienal, Sheikha Hoor Al-Qasimi, esgrime que la pieza estaba situada en un lugar de ocio para niños y familias. Pero, ¿es ésa razón suficiente para echar del cargo a Persekian, una persona sin el que la consolidación de Sharjah en el circuito internacional de bienales no habría sido posible? En una bienal que tradicionalmente, según proclama Sheikha Hoor Al-Qasimi, ha sido plataforma para el diálogo, ¿no se podría haber dialogado para buscar un nuevo emplazamiento para la pieza? Es una pena no se haya sabido aprovechar la trascendencia de esta buena Bienal para mostrar al mundo que en los Emiratos quiere respetarse la libertad de expresión y que el tremendo auge que ha experimentado la cultura en la región podría deberse, precisamente, a las políticas moderadas y sensatas de quien lo auspicia. No ha podido ser.
En buena medida, el arte muestra aquí sus poderosas defensas a través de la memoria, indisociable de un presente que se acusa deudor de la tradición y de los cruciales episodios históricos que han modelado la identidad del mundo árabe en el último siglo. En el Museo de Sharjah, la sede principal de la Bienal, hay salas dedicadas a dos adalides de la modernidad en la región, el iraní Bahman Mohassess y el sirio Elias Zayat. El diálogo entre el primero, exiliado en Roma hasta su muerte el pasado año, con sus compatriotas los hermanos Rokni y Ramin Haerizadeh, dos de los artistas jóvenes con mayor proyección internacional que viven, exiliados, en Dubai, es especialmente feliz.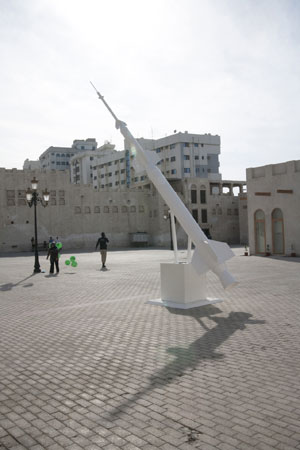 Joana Hadjithomas y Khalil Joreige: The Libanese Rocket Society: Elements for a Monument, 2011
En el ámbito de la memoria colectiva, The Libanese Rocket Society es el trabajo del tándem formado por los libaneses Khalili Joreige y Joana Hadjithomas, una pieza importante que nos habla de la carrera espacial libanesa de los años sesenta, fundada en una próspera cantera de científicos y pronto frustrada cuando los militares quisieron convertir los cohetes en misiles, echando por la borda los sueños de progreso de todo un país. A la escultura del patio exterior, un artefacto a medio camino entre el cohete y el misil, se une en el interior una profunda reflexión en forma de escultura y vídeo. Tal vez Líbano no ganó la carrera nuclear pero si miramos a sus artistas debemos considerar al país mediterráneo como una potencia a tener en cuenta.
La bienal dedica espacio (y tiempo) al documento histórico. Pearls of the Persian Gulf, Dubai, es un filme de Kamran Shirdel rodado en 1975, un extraordinario trabajo de quien dicen es el padre del género en Irán en el que se narra el importante desarrollo económico de Dubai en la segunda mitad el siglo pasado. Junto a esta cinta pueden verse dos piezas de Alexander Markov, que ha buceado en los archivos de la televisión soviética y ha montado sendos documentales sobre la cuestión palestina y la independencia de África. Tan sólo unos metros más allá, un trabajo de Naeem Mohaiemen revisa la historia de las utopías fallidas a lo ancho de Oriente en otro filme que precisa una mirada atenta como asimismo indispensable es el trabajo de la marroquí Bouchra Khalili, con vídeos en los que diferentes inmigrantes narran y dibujan en el mapa sus testimonios en busca de su lugar en el mundo.
Parece claro, por tanto, que en el tratamiento de lo histórico se encuentra buena parte de los orígenes conceptuales de esta bienal. Pero también priman, quizá para equilibrar la intensidad retrospectiva, trabajos que exploran la compleja realidad del presente. Los hay que versan sobre cómo se manipula la realidad, como el de Julia Meltzer y David Thorne, que cuentan cómo el Pentágonoconstruye el pasado de las personas. Cautiva también el realizado por Shumon Basar, Eyal Weizman y Jane & Louise Wilson, que recuperan el asesinato de un líder de Hamas en un hotel de Dubai a manos de miembros del Mossad. Nace la idea de un vídeo colgado en Youtube en el que se reconstruye el crimen a través de las cámaras de seguridad de aeropuerto y hoteles. El trabajo del grupo, un video con espejos a ambos lados que multiplican la imagen, alude al panóptico y a los férreos sistemas de vigilancia y reconocimiento. Ambas piezas son muy dignas herederas del clásico de Farocki.
En la parte final del recorrido se encuentra el trabajo de Trisha Donnelly. Una de sus formas de mármol se halla entre las malas hierbas de un espacio ruinoso. Acompaña un sonido penetrante, cuyo origen en principio desconocemos. ¿Será un helicóptero? Es un trabajo enigmático y bellísimo. Cuando suena la llamada a la oración de los imanes el conjunto resulta estremecedora aunque si, como dicen, la llamada a la oración ha de ser imperturbable, no tardarán en estudiar suidoneidad. En cualquier caso, volveremos a ver su trabajo en Venecia, sin riesgo de censura, espero.
Xavier Hontoria
publicado por El Cultural